SKU
Techno Turn
Please call us at 1-800-350-8176 to order.
Fully automated frame cutting in record time.
For dimensional lumber or timber processing
Work on material up to 10"x14"
Tools can reach all sides of the material, without having to turn the timber.
Automatic frame cutting reduces waste in construction.
Always precise.
Saves time.
Video introducing the Techno Turn

Processing small pieces with the Techno Turn

For fully automatic wood construction using dimensional lumber for any house construction project, pre-cut framing of walls, roofs, trusses.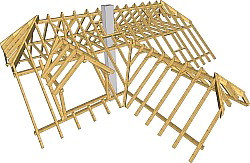 Can be used with finger-jointed material.
Useful for pre-engineered LVL and I-joist construction and manufactured trusses.
Whether you manufacture to factory-built specifications or deliver to construction site, all construction material can be marked or labeled for proper placement, reducing time for assembly.
Also for timber processing, as one large circular saw is always available and eight tools exchangeable to work on on all sides of the timber, without need to turn.
House frame photos courtesy of Dietrich's.