Automatic Timber Planing Machines - Made in Germany
For accurate sizing of timbers, Glulam, LVL, plastics, soft metal. Straight or curved material, even tapered shapes can be planed, CNC controlled, up to 10 feet wide.
Whether you make domes, arches, bridges, trusses, rafters, or straight beams, REX planers are your answer, at whatever production speed your plants operate at.
REX can supply planers and production accessories for complete factory processing.
Choose from three series:
SuperMaster (top of the line, highest production, often custom designed for specific applications)
BigMaster (for high, multi-shift production)
TimberMaster (the machine for single shift production)
Each series is designed for specific duty-cycles, while maintaining the absolute top surface finish quality, at their rated speed.
They can be configured very much the same way, starting with 2 shafts, and can each be expanded to more than 12 working shafts.


Video: TimberMaster at work in a sawmill.
The key differences between the three models involve the design and weight of the frame, and size of the respective cutter blocks, and their counter-bearing and feed systems, which determine how fast the machines can process, producing consistent surface finish quality of timber products, subject to the speed of other complementary production lines.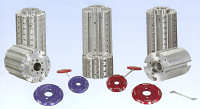 REX four-sided planers solve profiling applications by calibrating first with the horizontal cutter heads, then adding multiple spindles to achieve the desired profiling process. This assures, evenly powered, highest surface finish quality for any application. No more jamming the machine with underpowered motor systems!
REX planers include specialty design, such as adjustable upper unit thicknesser for timber and plastic. Even metal can be surface processed with Rex machines, but the company really makes its mark with these timber systems.
REX planers use a cardanic drive shaft system that feeds even wet and frozen wood. Interchangeable tool systems (cone or hydraulic tensioning, reversible blade and spiral systems) make re-fitting, replacement, and maintenance fast and efficient, reducing downtime, for very high production.
About Buying a REX Planer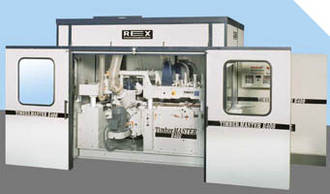 All Rex Planing and Moulding machines will be delivered with customized safety dust and noise protection cabin on request.
Right: Safety and noise reduction cabin
Rex planers are available in a standard configuration, but are usually custom designed to meet your process requirements, e.g. multi-spindles, for chamfers and profiles or slitting. These are truly exceptional machines and it is truly a select group of customers who make purchase decisions every year. Lead times approach 12 months.
Customer will do machine inspection before final delivery, and training will be performed at the factory in Germany.
Installation and additional training can be provided.