Mida has developed planers for planing wood on 1, 2, 3 or 4 faces. Mida planers can be had as single-sided thicknesser or as an edger, even with multi-blade rip-saws. But it is with its 4-sided planers that Mida has been making its mark. Several hundred machines are operating in North-America already.
The feed system is composed of 11 motorized feed rollers, located on top and bottom of the machine, with automatic extraction of the wood at the out-feed. No idle rollers.
Plane wood from 12 x 80mm (1/2 x 3 in.) to 500 (depending on the model) x 300mm (20 x 12 in.).
MIDA's patented SFS system (Sychronized Feeding System) keeps a uniform amount of cuttermarks and avoids strain between the table and the cutterhead, even with the hardest wood.
Plane and profile in one pass. You can put profiling tools on the vertical spindles and corrugated profiling knives on the top spindle (optional for the Dynamic model).
Combines the advantages of 4-sided planers and those of a moulder.
Wood processing jobs such as roof structures have never been easier!
Starter machine: The DYNAMIC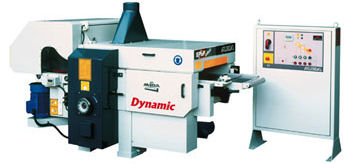 The DYNAMIC 4-sided planer has an outstanding value for money ratio. Closest in cost to most used planers. This machine features all the characteristics that made MIDA machines famous, like the all cast iron construction, simple mechanics and apatented Synchronised Feeding System. The Dynamic is the perfect tool for customers who want a no frills, high quality 4-sided planer that manages perfect results time after time.
Key Features
All Cast iron construction
Possibility to profile an all 4 sides (optional)
11 motorized feed rollers SFS (Synchronised Feeding System)
Work size: 475 mm x 300 mm


Mid-range: SPBF4 C planer - The ideal machine for wood log manufacturing.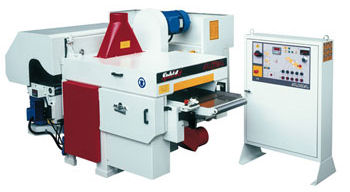 The SPBF4 C is a middle range 4-sided planer. On this model, several details stand out that inevitably position it as one of the market references. Under the compact body lies an all cast iron frame, cardanic drive, electronic speed variator and mechanical fence. All in all, this machine is equipped to handle all sorts and sizes of wood with speeds of up to 30 meters (100 ft) per minute.
Key Features
Cast iron construction
Cardanic drive
Electronic speed variator
Synchronised Feeding System (SFS)
Possibility to profile on all 4 sides
Work size: 500 mm x 300 mm
Top of the line: REKOR 6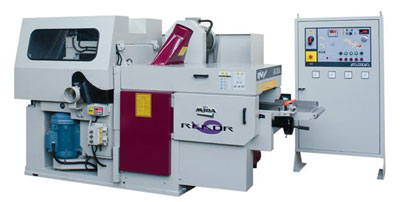 This is one of our top of the range machines. This big machine is aimed at the industrial customers who need a highly productive, feature-packed machine. Here the chamfering can be done automatically, the fence can automatically follow the right spindle, the drive is cardanic with 13 rollers controlled electronically and incorporating our patented SFS system (Synchronised Feeding System).
As in all machines, the machine is solidly built around a cast iron frame supported on six elevating columns. On top of this, it can optionally be equipped with tables accepting tools up to 260mm (10 in.) in diameter.
Key features
Key parts cast iron construction
Automatic chamfering (optional)
Synchronised Feeding System (SFS)
6 elevating columns
13 motorized rollers
Accepts tools up to 200 mm or 260 mm (optional)
Cardanic drive Automatic fence (optional)
Working dimensions: 490 mm x 300 mm
ARE YOU READY FOR THE PRIMA-4? Plane, profile and even saw in one pass.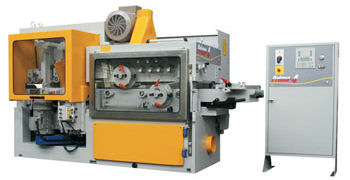 This latest offering from MIDA weighs a respectable 7 tons. Everything on this machine is huge and oversized; from the feed rollers to the columns, it is a massive machine. As in all MIDA machines, simplicity is the key. The machine is set up by means of electronic controls: you push the button, and the machine does the rest. The fence moves automatically with the right spindle, which speeds the set up of the machine considerably. The chamfering system will automatically adapt itself to the size of the wood. The new PRIMA-4 is available in many versions, with just 4-side planning, with or without automatic chamfering and in two working widths, 500 mm or 700 mm. The horizontal cutterheads come out and you can replace them with virtually any type of heads available on the market. This versatility is further enhanced by its 5th spindle at the outfeed which can tilt up to 45º and can plane or profile at angles never before seen on a planer of this size. This 5th spindle can also accept circular saws up to 250 mm in diameter, making the PRIMA-4 a machine for all tasks.
This new MIDA is still a mechanical entity, but as it is a machine made for the 21st century, it can be serviced online, by means of a modem, and can have its software updated or any self-diagnosis warning taken care by MIDA's technical centre.
Please contact us for more information about these fine machines.