"Just sits on the timber and eats wood"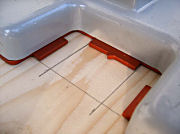 Alternative product::

Why pay more?
We designed this chain mortiser specifically for the professional timber framing trade, improving on existing mortisers, building in the features that our customers wanted to make their work much more efficient. Now with new stronger motor
Available for mortising depths of 6" or 8 ". With a hard-chromed chain, for longer edge life. Choice of 120 V or 230 V motor.
Built in Switzerland, for the best quality available anywhere.
Price includes:
mortiser guide stand,
1½" or 2" chainset,
hard-chromed chain
chainfit lubrication.
Heavy-duty - Ergonomic - Reliable - Efficient
Designed specifically for the professional timber framer
Our most rugged, yet ergonomic chain mortiser, designed with the collaboration of our customers. It has the weight, the quality and substance for continuous mortise work.
Heavy-duty guide posts made of polished hard-chromed solid steel and space age bushing material that won't clog, bind or wear out.
Shock absorption with gas spring. Plunges smoothly into wood and retracts easily from timber.
Heavy-duty, Swiss-made high torque motor with soft-start and overload protection.
Toggle safety switch for comfortable and safe handling, for right- or left-handed operation
Adjustable fence, with large lock lever: easy to lock, easy to release for cross-grain mortising.
Choice of imperial or metric measures on unique scales for side-fence, depth stop.
Line-of-sight assist with chain/mortise scribe plate
Bar/chain tension adjustment stabilized with solid metal key inside reinforced housing.
Choice of 6" or 8" depth of cut, (actual depth: +1/2" deeper)
Heavy-duty weight and balance
Choice of motor:

2500W @ 230V @15 Ampere
NOW AVAILABLE: 120 V MOTOR @20 Ampere
Accessories included:
Side fence and guide stand
Complete mortising set (6" or 8" bar, 28mm wide chain, sprocket, Stauffer grease fitting, choice of 1½" and 2" sets and HC- chains, at no extra charge) for extra 1/2" of depth.
Can of "Chain-Fitness" penetrating lubricant
Set of wrenches
Mortise scribe plate
3m (10') power cord
To purchase additional chainsets, see Mortise Chains .
Compare our SwissPRO KSP 16/20 mortiser with Hema and Mafell chain mortisers
Motor/Transmission
SwissPRO 162/202
HEMA ZKS15
Mafell LS 103Ec
Motor
Eibenstock Industrial motor.
2500W @ 230V or 120V @ 2000W available
2000W @ 230 V
2500W @ 240V
electronic controller
yes
no
no
Motor soft start (buffers motor and transmission)
yes
no
no
Motor removable without dismantling transmission
yes
no
no
Possibility of clogging with wet chips
very low
very high
very high
Chain-set compatible with competitor's mortiser
yes
yes
yes
Bar assembly onto solid metal key (ST-50) - will not bend
yes
yes
no
Chain sizes
28 x 1 1/2 in
28 x 40mm
28 x 50mm
40 x 50mm
28 x 35mm
28 x 50mm
28 x 1 1/2 in
28 x 50mm
(plus 4 sizes of slotting chains)
Hard chromed chain for double edge life
supplied with every machine
no
no
Longer bars/chain
6" and 8" depth is standard; 12" on special order
no
no
Guides
SwissPRO 16/20
HEMA
Mafell
Guide bushings
CNC turned, precise guide bushings of space-age material (ERTALITE) with extremely high wear and tear resistance and dry lubrication performance
standard, subject to clogging
standard, subject to clogging
Gas spring for smooth return
Heavy-duty, larger, stronger, more wear-resistant
smaller
not applicable; uses compression spring
Ease of changing gas spring
easy
complex
not applicable
Depth of cut with standard bar
over 6 1/2" or 8" (12" on special order)
5 7/8"
5 7/8"
Fence Setting
SwissPro KSP 16/20
HEMA
Mafell
Adjusting, locking and unlocking
Simple to use. Locks and unlocks on slightest clamping pressure.
Hard to lock and unlock
Subject to loosening and breaking
Slide shaft
Polished chrome steel for better gliding, no wear & tear
N/A
N/A
Scales
inches or metric (optional)
metric only
metric only
Positioning sleeve
red anodized (simplifies clean view onto scale)
N/A
N/A
Scales
SwissPro KSP 16/20
HEMA
Mafell
Simple setting of depth measure
Integrated. No ruler or measuring tape necessary
not available
not available
Depth scale
inches (metric on request)
metric only
metric only
Scale
lasered in, won't rub off
N/A
N/A
Lock screw
brass, will not damage guide shafts
N/A
N/A
Scribe scale

Quick alignment of machine to scribe and mortise. (Aligns chain to mortise scribe, without needing to push chain down to check, saves time)

Available for all standard sizes (inches and metric)

not available
not available
Mortise without guide stand
Possible with our side fence (optional)
yes
yes