SKU
Mortise Slotter parts
Please call us at 1-800-350-8176 to order.
Spare links
Links are available for repairing most chains. They are supplied in packages of two pieces and six pins each. The pins can also be supplied separately.
Sprockets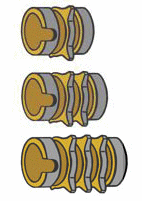 We produce or supply drive sprockets to guarantee the roundest, quietest chain drive operation.
Please call if you need a size or style not available on our Sprokets page.
Tandem sets



Tandem sets are used to make two symmetrical parallel mortises at a fixed distance from each other, in a single operation.
They are made of two sets specially built for this purpose and a spacer (made of a plate and a ring), mounted between the two guides and two sprockets to obtain the required distance between the two mortises. When ordering, please specify the thickness of the mortises and the distance (thickness of the wood) between them. For example: tandem set 8-10-8x40-A-CL. To avoid misunderstanding, the spacers should also be ordered indicating the three thickness figures: chain - wood - chain.
The tandem sets may also be supplied:
with trapezoid profile chains, in order to match the transverse part of the opening with its mounting;
mixed, with rectangular and trapezoid chain profile;
with round profile chains, to make mortises for grilles, shutters, ladders, and so on.
Device for narrow mortises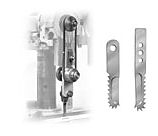 "Fitschen knife" is a device for cutting very narrow mortises that are impossible to achieve with normal mortising chains. It is easy to apply to the chain mortising machine as a normal set. Small chisels are applied to the device in order to make mortises 1, 1.25, 1.5, 1.75, 2, 2.25, 2.5, 2.75, 3, 3.25, 3.5, 4, 4.5 and 5 mm wide. The minimum length that can be obtained is 22 mm and the depth is 55 mm.
Chain sharpeners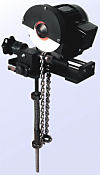 We carry chain sharpening machines, especially designed for sharpening mortise and slotter chains with the proper pitch and angle.
If you run a sharpening service, call us at 1-800-350-8176 for proper profile information!