SKU
SKU17032
Please call us at 1-800-350-8176 to order.
LPR-80P Log Lathe and Milling Machine
The most reliable and flexible solution for log rounding and milling tongue and groove profile and making saddle notches, all in one machine.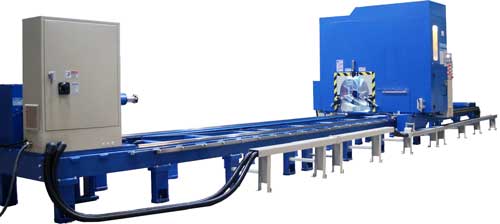 Handle a variety of tasks with this versatile machine: round or D-log or even square timber, with or without Tongue and Groove or any complicated profiles.
Load once and carry out all operations.
Switch from one profile to another with negligible setup time.
High precision
Incomparable surface quality
Easy operation
Maximum safety
Reliable under a demanding workload
Efficient for large or small batches.
Can handle multiple shift operations under heavy load.
Robust structure weighing over 4,800 kg, with annealed welds for strength.
Chainless drive system

Dimensional accuracy of finished logs
No more aligning or spacing. No more gaps between logs.
Incomparably smooth surface quality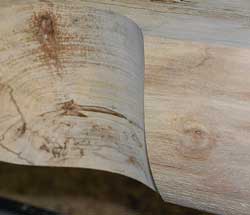 No dents or cutting marks left on the log.
High precision spindles spin up to 5,800 RPM, ensuring unmatchable surface finish.
Efficient and powerful
No preliminary processing required, even if log is crooked or irregular.
Just load and go!
Load once and finish the job!
One person operation. Quick setup. Powerful cutting.

Finish the most complicated jobs within 15 minutes.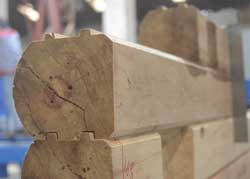 From a 29 foot (8m) long raw log to a top quality D-log with bevel edge and T&G profile on two sides, done in 15 minutes!
Over 80 feet (25 m) long high-precision square linear guide rails
One machine, all profiles

Switch quickly from one profile to another. Please your customers by adapting to their preferences and delivering quickly.
Superb dimensional accuracy of finished logs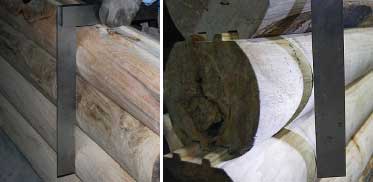 Whether you're milling giant logs of 400 mm (16") diameter or slim logs of 180 mm (7") diameter, you will achieve dimensional accuracy of 0.2 mm (0.008").
This means that assembling the log home is precise, quick and easy. Walls are straight and perpendicular. No more gaps between logs.
Smooth surface quality
Robustness, speed and precision give smooth surfaces, even when cutting under a heavy load. No more cutter marks, rough edges or dents.

SHINGMATIC Machine Quality and Technology for Maximum Reliability and Efficiency
High-precision square linear guide assembly.
Over 25 m long high-precision square linear guide rails are mounted on a robust, precisely machined and stress-free base frame, providing a solid and stable platform for the smooth travel of each cutting unit with extremely high accuracy of motion.
Robust and durable construction bears the vibration and counterforce of heavy-duty cutting.
The end result is the super dimensional accuracy of finished logs, with error of less than 0.2 mm (0.008") along the full length of the log.
Four rows of high-strength steel balls roll in the curved grooves, with clearance of less than 0.002 mm, absorbing vibration and producing the extremely high motion accuracy. Super rigidity and durability against impact load from all directions.
High-precision spindles rotate up to 5,800 rpm!
SHINGMATIC's high quality, precision spindle ensures the quiet operation and incomparably smooth surface finish, no matter if log is dry or green, even under heavy laod. Add in the advantage of a light cutterhead and the end result is the unmatchable performance.
Spindle diameter reaching 2.0" (50 mm), specially hardened for tremendous strength against heavy load. Spindles and housings are machined with accuracy class of 1/1000 mm, along with heavy duty bearings, ensuring the most stable performance and longest service life.
Ball screw spindles for precise positioning and repeatable accuracy
The position of each cutting spindle is precisely controlled by the ball screw spindles assembly. Set values displayed by numerical readouts with a precision of +-0.1 mm (0.004"). Quick and precise positioning of each cutting spindle, with superior repeatable accuracy.
Smooth and stable operating performance from chainless rack & gear drive system with lubrication pump:
Strong, durable and practically maintenance-free. No more loose chains, no more tensioning works and no more grease works. Cutting station travels over 26 feet (8 meters) driven by a chainless rack and gear system, and guided by the high-precision linear guide assembly. Result: strong and smooth cutting movement.

Easy Operation
Mechanical variator for stepless speed change of log rotating between 20-60 rpm, for minimum torque loss during transmission. Turn the knob to change the speed. Easy.
Numerical readouts for positioning control. Easy operation and recalibration for different tool diameters.
Log Triangle Centering System. Minimizes the distortion caused by the log's own gravity, especially for long, slim logs.
Easy-to-understand operation panel. Get everything under control.
Easy installation of cutterheads. Change them in one minute!
Additional indication scales for quick positioning.
Centralized lubrication with pump for quick and easy lubes, greatly reducing downtime.
Safety Features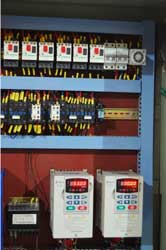 Complete safety cover separates operators from the dangerous cutting zone and protects from flying chips and mechanical hazards. Power-off protection against accidental door opening.
Interlocked elecric system
One circuit breaker protects against overload and short circuit, with power-off lock against the electric cabinet door opening.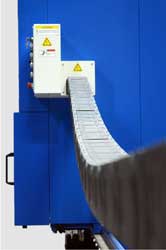 Low voltage control circuit, with independent protection against overload and short circuit.
IP54 class motors are dustproof and safe from water splashing. Complete protection against contactr.
Star-delta starter for the main motor. Every motor is comprehensively protected against overload, short circuits and low voltage.
Internal ventilation ensures stable performance during hot weather.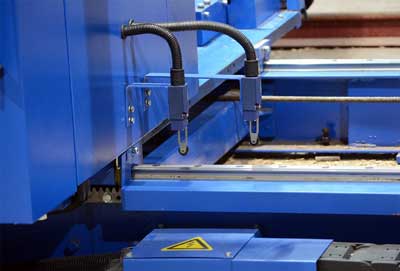 Interior light illuminates cutting zone.
Six interlocked safety limit switches protect cutting tools from colliding.
Safety limit switches for top spindle elevation protection. Safety limit switch against accidental opening of the cutting station door. All motors will stop immediately once the door of the cutting station opens.
Emergency stop buttons in three easy-to-reach locations.
Heavy duty cable chain completely protects wires against dust and chips, and accidental damage. No danger of electric shock even if the wire inside is broken.
New Features - The 5th Generation of LPR-80P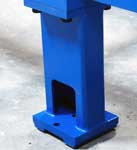 New base frame foot with leveling adjustment, allows quick installation without having to prepare the foundation, as long as the ground is solid enough to support the weight of the machine.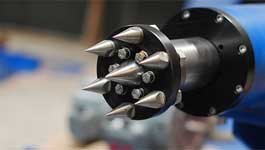 Specially designed log holding spikes clamp the log securely with minimum pressure. Quickly and easily clamp the log by pushing the spikes into it for just 5 mm.
The spikes are specially hardened and hard-chromed for the longest service life. They are easily replaceable with regular tools if damaged. No need to replace the whole spindle assembly.
Improved Log Triangle Centering System keeps the log straight in its center line and minimizes the distortion caused by its own gravity, especially for long and slim logs. The improved structure allows you to engage and disengage the Long Triangle Centering System precicely, easily in 20 seconds without additional adjustment. The contact surface is designed so that no marks are left on the log. The clamping plate is hard-chromed and replaceable for longer service life and reduced replacement cost.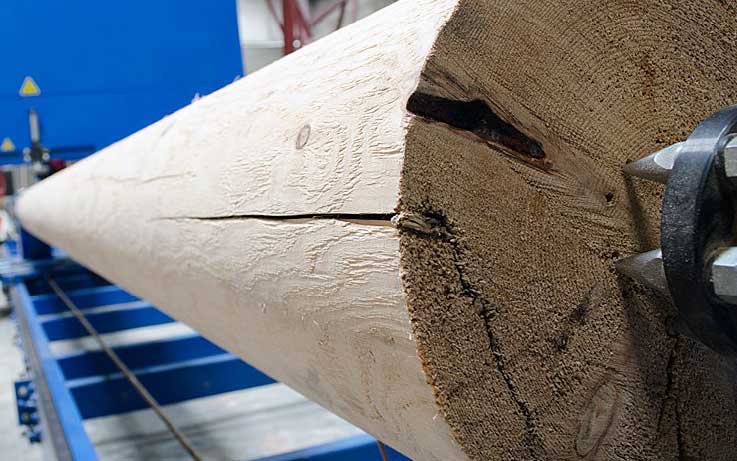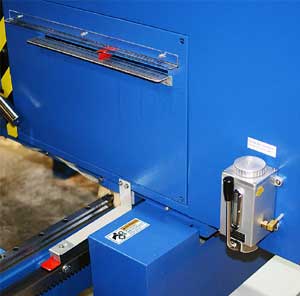 Improved Rack & Gear Drive System drives the two-ton cutting station in the X-axis for smooth and stable feeding performance. Motor power up to 1.1 kW, larger capacity frequency inverter and increased torque output of gear box (only in model LPR-80P-T20).
Centralized lubrication for the Rack & Gear drive system and the X-axis motion linear blocks, integrated with the lubrication pump. No more regular grease jobs.
Three additional indication scales for quick positioning of the cutting station, horizontal spindle and Y-axis position of the top vertical spindle, precisely, easily and quickly.

Two Configurations Available

Log Home Center LPR-80P-T16: Standard configuration
Equipped with 7.5 kW individual motors for the top and side vertical spindles. The maximum tool length for profiling is 160 mm, meaning the maximum planed surface is 160 mm, which is suitable for most log home construction.

Log Home Center LPR-80P-T20: The stronger model.
A stronger model in profile milling. The top and side vertical spindles are each equipped with 11 kW motors for deeper and wider cuts. Maximum tool length is 200 mm, maximum tool cutting circle diameter is 220 mm, and a stronger cutting station feed system with increased feed motor power and stronger gearbox for higher torque output.
All these upgrades improve cutting performance under heavy load.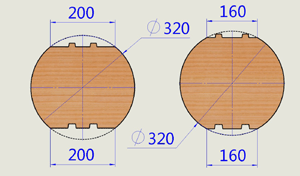 200 mm width means a larger contact surface between logs, higher stability and better heat insulation.

Original SHINGMATIC Tooling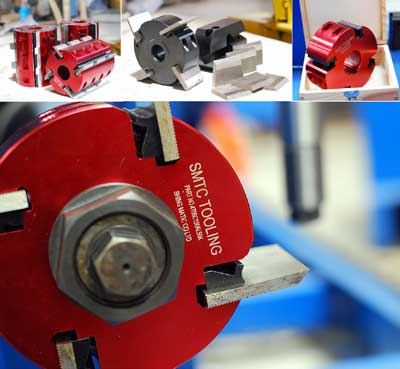 The AreoMetal body provides tremendous rigidity at a low weight, dynamically balanced with every knife holder and lock screws, ensuring the lowest load on the spindle. Rotation up to 5,800 RPM, no vibration and no imbalance.
HSS-T material corrugated back knife for long grinding interval and short changeover time.
(HSS-T: High Speed Steel with 18% Tungsten content. Much harder than M2 HSS, which typically contains 12% Tungsten.)

LPR-80R Overview
LPR-80P-T16
LPR-80P-T20
Max. length of log
8,100 mm (11,500 mm optional)
Min. length of log
No limit
Max. diameter of raw log to be loaded
480 mm
520 mm
Min. diameter of raw log for processing
140 mm*
Max. finished diameter of round log
480 mm
520 mm
Min. finished diameter of round log
140 mm
Feed speed of cutting station
0.6-5.4 m/min infinitely adjustable by inverter
Log rotating speed
20-60 RPM infinitely adjustable by variator
Cutting spindle speed
5,000 RPM
Cutting spindle diameter
50 mm
Horizontal spindle motor
15 kW
Top vertical spindle motor
7.5 kW
11 kW
Side verticle spindle motor
7.5 kW
11 kW
Max. profile tool cutting circle of top vertical spindle
200 mm
220 mm
Max profile working width of top vertical spindle
160 mm
200 mm
Max. notching tool cutting circle of top verticle spindle
240 mm
Max. tool cutting circle of side vertical spindle
220 mm
Max. profile working width of side vertical spindle
160 mm
200 mm
Overall dimensions
10,800 x 2,500 x 2,400 mm
Net weight
4,800 kg
5,200 kg
* Up to 600 mm optional