System 2
ZOBO System 2 - For cabinet making, fine carpentry, construction
Available in
Imperial sizes from 1/2" to 2-1/2"
Metric sizes from 15 mm - 65 mm.
Note to first-time buyer for System 2: Centering removal punch not included. Recommended to purchase. See System 2 accessories.


Centering pin point and pilot drill bit have tapered shaft end for friction fit seating: 2.5 mm diameter for up to 2", and 3.5 mm for sizes over 2".
System 2 bit and its shank up to 50 mm or 1-1/8", are made in one piece.
Shank sizes vary: 9 mm, 12 mm, depending on bit size.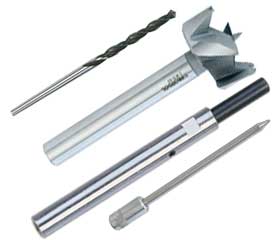 See ZOBO Central Drilling Systems for full information on these remarkable bits, including guides for choosing between System 2 and System 3.
A centering pin point is always included with the sale of each bit.
Optional: Centering pilot drill bit and removal punch to be purchased separately. Click below to select the desired bit or accessory in your proper size category.
When purchasing your drill bit, see "Related Products" at the bottom of that page for the correct accessories (pilot bits, extensions) to use with your Zobo bit.
System 2 Drill Bits
System 2 Accessories
System 2 Starter Box