SKU
Chain Sharpening
Please call us at 1-800-350-8176 to order.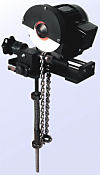 Use our chain sharpening service to keep the proper pitch and correct angle for the maximum life of the edge.
Cost per chain from $45.
We also carry chain sharpening machines, especially designed for sharpening mortise and slotter chains with the proper pitch and angle.
If you run a sharpening service, call us for proper profile information!
Get better service life out of your chain - Use our "Chain-Fitness" spray to lubricate chains. It penetrates, gels, keeps chains cool. Reduces wear and tear. Makes chains run quieter and last longer! (Great for any mechanical moving device!)
And when it comes time to replace your mortise or slotter chain, we have the best selection.
Shipping your chains for sharpening
We have been getting quite a run on having chains sharpened. As we have experienced some problems getting them sent correctly, please read the following:
If time is of the essence, you can send chains by Express overnight or 2nd day, but it is a fairly costly affair. Otherwise, count on a 3 week turn-around time at the maximum.
For our American customers, the cheapest route is by flat rate mail (Priority Post).
The cost for sharpening with return freight for a Makita chain is $65.00, for Mafell, Hema/Protool, SwissPro $75.00 As we have received deliveries of packages without the chains (the chains having chewed through the wrapping), we strongly recommend that you wrap the chains tightly in sheets of cardboard or heavy paper material. If only one chain is set, you could put some cardboard around it. Fit it into a matching size of flat-rate box from the US post office, making sure to stuff the box, such that the chain cannot flap around loosely inside the box, as it will eventually chew through it.
Tape all around it once from side to side and across. Send by priority mail with delivery receipt and insurance. That way you can track it, and it never to gets lost.
Be sure to email us your complete return address, with telephone number and package tracking number. For our American customers, mail to:
Timber Tools
4600 Witmer Industrial Estate, Unit 9
Niagara Falls, NY 14305
For our Canadian customers, mail to:
Timber Tools
11 Church Street, RR #10
Brampton, ON L6Y 0J5